10th anniversary of debut album Paris!
Paris Hilton's debut album "Paris" dropped on August 22, 2006 in the US. It debuted at Number 6 on Billboard's Top 200 Album chart and sold over 400,000 copies its first week of release worldwide.
Making of "Paris"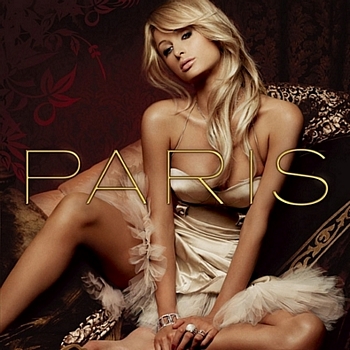 During the making of the debut album, Paris went to Miami to meet uber-producer Scott Storch, who is known for his work with 50 Cent, Mario, Beyonce, Chris Brown and Christina Aguilera. 'Turn It Up' was his first collaboration with Paris and it set a new, rhythmic direction for the rest of the album. Storch melds a bangin' beat to a sexy lyric and infectious melody. The song was the beginning of a killer collaboration that generated more than half the songs on the album.
Storch invited Fat Joe (and his larger-than-life-persona) down to the studio in Miami and they came up with a tongue-in-cheek gem, 'Fightin' Over Me.' The only question was: Who should be the second rapper fighting for Paris' affection? Turns out it was Jadakiss.
Originally, Paris' album had more of a guitar-driven pop/rock direction, sort of like the Go-Go's meets Blondie. Warner Brothers Records thought having a reggae-flavoured track would be a really good fit and break things up a bit. They asked Shep Solomon, who won the prestigious Ivor Novello Award in the UK in 2006 for Natalie Imbruglia's 'Shiver,' to write something specifically for Paris in this vein. He brought in Fernando Garibay and Ralph McCarthy, and 'Stars Are Blind' is the result. When Warner Brothers Records started doing remixes, they reached out to the Luny Tunes (Latin Producers of the Year) to do a reggaeton mix. They invited Wisin and Yandel to add their magic.
While looking for one more track to add to the album, JR Rotem (who co-wrote and produced 'S.O.S.' by Rihanna) and DioGuardi (who has co-written hits for Christina Aguilera, Kelly Clarkson, Gwen Stefani, and Ahshlee Simpson) sent an infectious song 'I Want You.' Rotem is well-known for his work with samples. He utilized the horns from the title track to the Grease soundtrack to add familiarity. Paris finished the vocals within days of it being written.
Paris and Kara DioGuardi wrote the lyrics to another Scott Storch track, 'Jealousy,' in Miami, a song about the disintegration of a very close friendship – due to envy, jealousy and betrayal.
Storch came up with a contemporary update of an '80s style track ('Heatbeat') while in Los Angeles. Warner Brothers Records ended up asking stellar lyricist Billy Steinberg (who co-wrote Madonna's 'Like A Virgin,' Cyndi Lauper's 'True Colors' and Divinyls 'I Touch Myself') to write the top-line of this song, the only ballad on the album.
They then asked Dr. Luke (who co-wrote and co-produced Kelly Clarkson's 'Since You've Been Gone' and 'Behind These Hazel Eyes') to come up with a song for Paris. Luke hooked up with Shep Solomon and started writing 'Nothing In This World.' Once they had the chorus and rough sketch of the lyrics, they invited Paris to meet them at a little hole in-the-wall studio on Sunset Blvd. Paris was so taken with the song that she committed to cutting it after the first listen.
'Screwed' was the very first song Paris recorded; the original demo was done before she signed her deal with Warner Brothers Records. Written by Kara DioGuardi and Greg Wells (who has worked with Pink, Aerosmith, Jewel and Elton John, among countless others), the song was coveted by numerous artists. Ultimately Paris won out, and ended up re-recording it with Wells, DioGuardi and Rob Cavallo.
While recording the vocals on 'Screwed,' Paris, DioGuardi and Wells decided to write another song. The result is an upbeat, dance-oriented track, 'Not Leaving Without You,' that gives listeners a taste of Paris' confidence when she sings: 'I got my eye on you boy and when I get my eye on something, it's like search and destroy.'
Storch cooked up the beat for 'Turn You On' in Miami and brought it to Dr. Dre's studio in Los Angeles, where Paris worked with Lonnie Jackson and Taura Jackson on the lyrics and melody.
After Paris and Scott came up with the idea of covering 'Da Ya Think I'm Sexy?' while visiting Rod Stewart's home, the other ideas for cover songs were put on the back burner.

Posted: August 21st, 2016
Comments: none