$5 Million Campaign For Promoting Can Can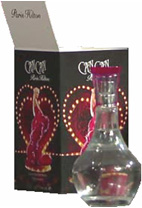 This is amazing. I don't know if it's exactly $5 million, but at least a million.
According to BrandWeek, a 30-second video will air on the Jumbotron video billboard in New York's Times Square. The spot will show behind-the-scenes and pictures of Can Can. The article says "it will run 2,700 times over its 8-week run" and of course, all of this for launched by Parlux.
I'm also happy to learn that Can Can is doing well and "Parlux expects to generate about $20 million in revenues for its first full-year. "
A rep said: "The whole idea behind this product is very festive and glamorous," said a rep, adding that the product is rolling out just in time for "holiday flirtations. It's very much about Paris' playful spirit, so why not do it in a big dramatic way, like the Jumbotron in Times Square?"
Also for those who live in New York, Paris Hilton will be at Macy's in Garden City on November 13, 2007 in support of the fragrance. 

Posted: November 2nd, 2007
Comments: 3
Comments