Paris Hilton's Exclusive Interview With People Mag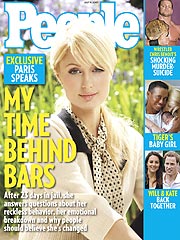 "Thank God I'm free!"
These were the words of Paris Hilton, smiling and fluffing her newly replaced blonde hair extensions Tuesday at her grandfather's Bel Air mansion, just hours after her release from the Century Regional Detention Facility in Lynwood, Calif.
In an exclusive interview and photo shoot with PEOPLE, Hilton, 26, gave a candid glimpse into her 23 days in jail – including her explanation of the medical problems that led to her brief transfer to house arrest, and what she says she's learned from her experience.
Julie Chen speaks with Jess Cagle, People magazine's assistant managing editor, about his exclusive interview with Paris Hilton, given hours after her release from a Los Angeles prison.
CBS and People

Posted: June 27th, 2007
Comments: 4
Comments