A Cheshire entrepreneur comments about his day with Paris Hilton in Germany
Reported by the Manchester EveningNews UK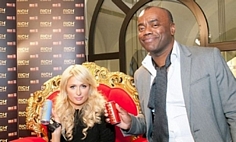 For former pop star Recardo Patrick was the man charged with entertaining the world-famous hotel heiress as she joined him for a hectic round of publicity in Frankfurt for the drinks company he promotes.
Altrincham-based Recardo masterminded the audacious launch of a new range of Rich Prosecco drinks in Frankfurt's Stock Exchange.
And it ended up becoming a media frenzy that saw Recardo and Paris chased by about 300 paparazzi across the city.
The Diary checked in with Recardo to see how it all went, and he sent us some of his postcard moments from his time with Paris – including their trip out to the Porsche museum in Stuttgart where the 29-year-old blonde tried out this rare £7m sportscar for size.
Recardo says: "It was hectic and a logistical nightmare, but Paris had a great time and the pictures of her have gone all over the world, which as brand director is what it's all about.
"I don't think she could quite believe all the public attention.
"Everywhere we went there was a police escort, thousands of screaming fans and the paparazzi.
"At one point there were 330 paparazzi chasing us down the road."
Recardo, once a singer with the Manchester soul band Sweet Sensation, has arranged a host of media launches over the years, including with former US President Bill Clinton and supermodel Naomi Campbell.
He says: "I'd love to do a launch at the Vatican with Paris. I'd really like Paris to meet the Pope, now that would be a great shot."
But before that audacious move, Recardo says he aims to head back to home turf, and organise a launch in Manchester with socialite Paris – or perhaps an even bigger global star.
He says: "There are lots of talks about launches back in the UK, because people know I can get anybody."

Posted: February 10th, 2011
Comments: 1
Comments