Paris Hilton discusses her business empire with Time magazine
Reported by TIME (written by Kristen Bahler)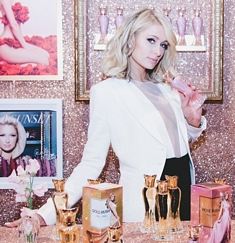 I'm in a conference room in Midtown, Manhattan. It's late afternoon, and the people nestled in the cubicles outside are starting to yawn, stretch, and launch into their end-of-day routines.
Sitting in the swivel chair across from me is Paris Hilton. And she is not tired.
"My schedule is insane," Paris Hilton says. She's wearing a black suit jacket, and scratching the head of a dog so small it could be a chocolate-covered Twinkie. A Bond villain with fake eyelashes.
"I'm constantly traveling. I have 19 product lines. I just released my 24th fragrance. I'm working on a new show, and producing films. A second album and a third book … "
She trails off.
"Like, I don't stop."
We're at the New York headquarters of Paris Hilton's perfume dynasty, and that's no hyperbole: At two dozen fragrances deep, she's got one of the most successful celebrity fragrance lines of all time, reportedly falling only behind Elizabeth Taylor in sales. There's an ever-so-slight rasp in her voice — she's been doing promotional overtime for the just-released "Platinum Rush," squeezing it in between publicity for The American Meme, a new Netflix documentary she stars in and executive produces, a new nail polish collection, and a new "virtual reality experience" that lets anyone with a VR headset travel, party, and shop like a member of her entourage.
Paris Hilton is really good at assimilating to the people around her — fans, paparazzi, reporters who buy everything secondhand and don't own a single bottle of perfume (I mistakenly call Chanel No. 5, probably the most famous fragrance ever, "Chanel No. 9," and she doesn't even correct me). But when I ask her why she needs 24 different perfumes with her name on the bottle ("Why not have just, like, one signature scent?") it takes a moment for the question to register. Then a wave of comprehension washes over Paris Hilton's face, and she throws her head back and laughs a deep, true, guttural laugh.
"I couldn't just have one," she says. "The fans want more, so we have to meet their demands. I might have 100 one day."
Read the rest of the article here.


Posted: December 6th, 2018
Comments: none