Paris Hilton filming a new Turkish commerical
Reported by Turkish-Football.com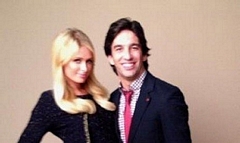 Paris Hilton and Arda Turan have been filming a commercial shoot for Turkish clothing company DeFacto.
Hilton Tweeted, "In Istanbul, on set shooting the @DefactoDechino commercial with Arda Turan. Such a nice guy!"
The shoot is reported to have cost over TL 6 million, Hilton is rumored to be earning TL 3.5 million while Arda is expected to make TL 1 million.
Hilton told reporters at the airport, "I love wandering around the mosques and the Grand Bazaar, Turks know how to have a good time.
"The women here are very exotic and the men are very hansom, I really like the clubs on the Bosphorus."
Arda heralded as the wonderkid of Turkish football as a Galatasaray youth lifted the Turkish league title, Turkish Cup and was twice awarded Player of the Season.
The 25-year-old midfielder was signed by the Rojiblancos in 2011 for €12 million making him the most expensive Turkish football transfer.
Arda was part of the Europa League and Super Cup winning Atleti side, the Turkish international midfielder has two goals and one assist in seven games.

Posted: October 8th, 2012
Comments: 1
Comments