Paris Hilton wanted for mayor in Kerikeri, New Zealand
Reported by Northern Advocate (New Zealand)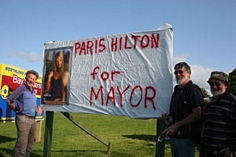 The Far North mayoral race has just been spiced up – a new candidate has come on board at the last minute, and she is the region's first female mayoral hopeful.
Three Kerikeri men known only as Mike, Arthur and Greg, put up a sign on Kerikeri Rd to promote a candidate they say they would definitely vote for.
The men say the election race to date has been entirely lacklustre and it is their duty to spice things up, which they have done by introducing US socialite Paris Hilton to the mix.
They created a make-shift campaign billboard which was constructed out of a white bed sheet.
It bears an image of Hilton.
They stuck the sheet over a existing billboard on Kerikeri Rd with masking tape yesterday afternoon with the hope to get it up before 5pm traffic.
Mike says the election lacked glamour so they thought they would add some.
They say they have already voted but are tired of the election being such a "non-event". Asked what Paris Hilton would bring the Far North they responded "glamour or […]" but then corrected themselves "no, we can't say that, she brings the simple life".

Posted: October 4th, 2010
Comments: 10
Comments