Paris Hilton's Interview With "Harper's Bazaar" Magazine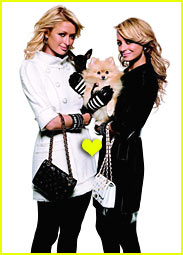 Childhood friends Paris Hilton and Nicole Richie will have to say goodbye in June when Paris, 26, is due to begin her 45 day stint in jail for violating her probation in an alcohol-related reckless driving case. But, for now, the Simple Life costars are together on the cover of the June Harper's Bazaar.
In a joint interview with the mag, the fellow lawbreakers (Richie, 25, was arrested for a DUI last December after she was seen driving the wrong way down a freeway off ramp) talk about their life, their breakup, and their rap sheets.
PARIS:
On getting in trouble with the law:
"I think I get in more trouble just because of who I am. The cops do it all the time. They'll just pull me over to hit on me. It's really annoying. They're like, 'What's your phone number? Want to go to dinner?' They won't even give me a ticket. They just pull me over, and the paparazzi, of course, take a picture. All the time. I have so many cops' business cards."
On going out:
"I don't really go out as much anymore. If I do go out, I go out at like 11 and stay till 12. If it's the weekend, I have parties at my house, because only cheese balls go out on the weekend."
On what people think of her:
"It's weird sometimes. I think people think I'm not human. They feel like they know me from seeing me in all those things, and they come up with their own explanation of what they think I am. They say, 'She doesn't work.' I work! Every single day, I'm traveling around the world. I wouldn't have been able to do this, without working. It's just annoying to me that people think things like that."
On how many pictures she has of herself:
"A lot, It's just for fun. I'm looking for another house right now, in Malibu, and another in Bel Air. I'm going to keep this house as my office, or a party place, or whatever. In my new house, I will not have pictures of myself everywhere. It will be my more mature home."
On aspiring to be like Martha Stewart:
"Maybe when I'm old."
On falling out with Nicole in 2004:
"There was no reason why we were fighting; it was just silly. We believed what other people were saying. People are really twofaced in this town, and they were trying to play us against each other. It made me sadder than any breakup with a boyfriend. It was just like the worst feeling ever."
[Edited]
usmagazine.com
These are unimportant and uninteresting questions!! Why do they ask them! Ask her about TV show and music instead! That's what we want to hear!

Posted: May 10th, 2007
Comments: 2
Comments