Repo! The Genetic Opera back in threaters worldwide!
Reported by Spookydan.com
March 19th: THE REPO REVOLUTION is happening all over North America!
What is the Repo Revolution?
This coming weekend, on March 19th 2010, theaters all over the globe are hosting a special Repo the Genetic Opera event, with LIVE shadowcast performances, and a special featurette to be shown after the film, with never before seen footage! Get dressed up, sing, dance, and party with The Repo Army!
Tell everyone and bring your friends… this is a one time event. The Repo Revolution featurette will never be shown again, and this is your only chance to see it!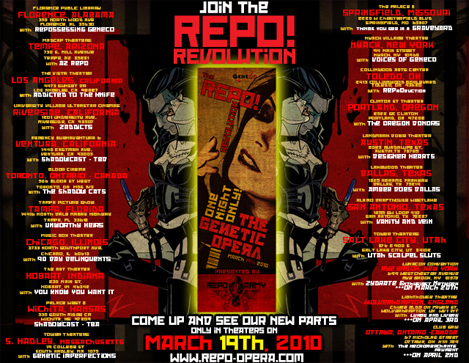 Posted: March 18th, 2010
Comments: 5
Comments