Christine Lakin (Playing the role June Phigg)

Christine Lakin was born January 25th in Dallas, TX and was raised outside Atlanta, GA. There, her love for performing blossomed when, at age 7, she became one of the youngest members of the Atlanta Workshop Players, a local theater company. As a child, Christine starred in dozens of national and regional commercials for top NY advertising firms and made her film debut at age 11 in the TNT civil war drama the Rose and the Jackal with Christopher Reeve. Shortly thereafter, she landed the role of "Al" Lambert on the popular ABC sitcom Step by Step, starring Patrick Duffy and Suzanne Somers, which ran for a successful seven seasons.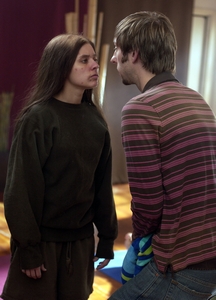 After the series finished, Christine dove into independent films such as Jungle Juice (2000) with Christopher Walken, and the teen comedy Whatever It Takes (2000), with James Franco, Shane West and Marla Sokoloff. Christine also continued making appearances on television, guest starring on such popular shows as Sons & Daughters, 3RD Rock from the Sun, CSI: Miami, the Loop, Boston Public, Veronice Mars, 7TH Heaven and Rodney. She also filmed pilots for various networks including Tim Burton's Lost in OZ (1999) for The WB, the Ruling Class (2001) for FOX/Imagine Television and Dirty Famous (2005) for VH1.
In 2003 Christine returned to her love of theater originating the roles of Darla/Sissy in the musical Sneaux, opposite Kristin Bell and directed by Andy Fickman. In 2006, Christine played Joanie Cunningham in Garry Marshall's Happy Days, the Musical at Mr. Marshall's Falcon Theatre in Toluca Lake. In 2006, she was nominated for an Ovation Award for Best Featured Actress in a Musical for her role as Casey in the Breakup Notebook: A Lesbian Rock Musical, which she originated in LA and recently won raves at the NAMT festival in New York.
Christine choreographed the west coast premiere of the smash-hit musical Zanna Don't in 2007, for which she was also nominated for an Ovation Award. Christine is also a proud member of The Troubadour Theater Company.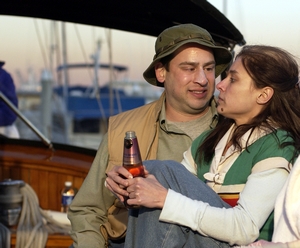 In 2004, Christine re-teamed with director Andy Fickman on the Emmy award-winning Reefer Madness for Showtime, which made its premiere at Sundance in 2005 and went on to win the Audience Award at the prestigious Deauville Film Festival. In another independent turn, Christine starred in the award-winning indie In Memory of my Father, alongside Jeremy Sisto, Judy Greer, Monet Mazur and Matt Keeslar.
Most recently, Christine starred opposite Lindsay Lohan in Garry Marshall's Georgia Rule, which premiered in May of 2007. The prestigious cast included such talent as Jane Fonda, Felicity Huffman and Dermot Mulroney. Christine was also featured in Disney's the Game Plan, opposite Dwayne "The Rock" Johnson. The film enjoyed two consecutive weeks at #1 this past fall.
In 2007, she wrapped the lead in the indie horror-thriller Red Canyon opposite Norman Reedus and signed a holding deal with ABC for the pilot the Owners, created by Fred Goss and Nick Holly.
Having graduated Cum Laude in 2003 from UCLA with a B.A. in Communications, Christine is also currently writing a one-woman stage show based on her life.
Christine resides in Los Angeles.