Joel David Moore (Playing the Role of Nate Cooper)

Joel first learned his craft in his home state of Oregon, where he earned a BFA in Performance Arts from Southern Oregon University and was a company player in the prestigious Oregon Shakespeare Festival. Upon moving to Los Angeles, Moore quickly secured his career-making role, opposite Vince Vaughn and Ben Stiller in the Fox hit Dodgeball: A True Underdog Story. Capitalizing on his early success, Joel starred in a string of films, including the Fox/Happy Madison picture Grandma's Boy, United Artists' Art School Confidential (with John Malkovich and Angelica Houston), Anchor Bay's Hatchet and, now, the Hottie and the Nottie, opposite Paris Hilton and Christine Lakin.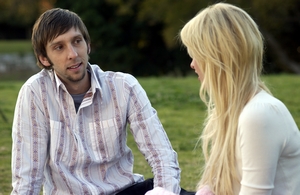 Joel's comprehensive background drove him to explore other aspects of the film industry, and in 2005 he made his directorial debut with the South By Southwest favorite short film Miles from Home. He followed that up by co-writing, co­directing, producing and starring in the independent psychological-thriller Spiral, which will be released theatrically in early 2008 by Anchor Bay.
Joel is currently signed on to star alongside Sigourney Weaver in the epic Avatar, James Cameron's action-adventure follow-up to his behemoth Titanic.