Full Story

Dumped and branded a loser by his present girlfriend, at the age of six, Nate Cooper remembers his first crush, Cristabel Abbott. Convinced that she's the only girl for him, a friend's mom researches and gathers information about Cristabel from the Internet. Nate, then, decides to move back to L.A. and track her down.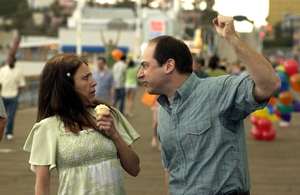 Cristabel is still a beautiful girl, and she's single. However, the only reason why she's still single is because she is still best friends with the same ugly girl that Nate knew from first grade, June Phigg. The two inseparable friends live together. They do the same activities together, but the only thing they don't do is go on dates together. June is considered as the "Nottie" because physically, she is singularly unattractive. Her personality isn't great either. But Cristabel simply refuses to leave June home alone unless she has a date.
Nate and Cristabel are determined to spend as much as time as possible together, if only Nate finds a boyfriend for June. Nate reacts by stressing that it may take a very long time to find a man for June. Most guys don't even want to approach her, even when Nate offers them money. Nate finally realizes June needs a makeover. Later, she is introduced to a doctor who seems to be a decent guy for her. However, as Nate and June eventually become friends, Nate slowly concludes that Cristabel may not be the girl of his dreams after all.