Adam Meets Paris Hilton For The Second Time
I have something really kewl to share with you guys. Adam (parislover, from the forum), who first met Paris Hilton at the World Music Awards in 2006, met her again at the Can Can launch in London last week!
He was nice enough to write in detail a long text about his meeting with Paris and send it to me. He had such an amazing experience! He was very lucky because he didn't have one of those VIP passes!
Paris revealed to Adam that she is planning to make a clothing line for men!
This is a must-read! It's very long, so I had to put the whole text on another page. I'm going to redo the "Encounter" section and add Adam's and my meeting with Paris to it.
Adam W. Meets Paris Hilton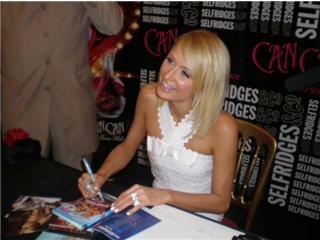 So i was lucky enough to meet paris, at her signing in Selfridges department store. London Me and my 3 friends arrived at selfridges just seconds after paris had arrived in a big yellow taxi with benji her mum kathy and her dad rick. she was amazing at working the press, she was probably outside for a good 5minutes posing and even signing for a few lucky fans before gradually entering the store.
we were unable to get into the store for a few minutes as there were masses of people waiting just inside of the doors waiting for a glimse. when we were finally able to enter we managed to see paris for a few seconds before she headed downstairs to start the signing. Luckily for me i saw paris's mum kathy and shouted over to her,she smiled and waved and then walked over, so i had a picture with her and then told her our situation, being that we were unable to get a v.i.p pass to meet paris, due to the fact that we were unable to buy the fragrance the day before. i explained that this was only as we were not from london and were unable to travel up the day before. i also told her that i was a huge fan of paris and that i had everything she had ever done.
Kathy then told me to wait there a second, whilst she goes to see Mason who was the hilton's personal secuirty. well paris's anyway. So she went and chatted to him and shortly after Mason walked over to us and said he'd be back in 20 minutes with some passes for us.
Read the rest here.

Posted: May 19th, 2008
Comments: 8
Comments