Paris Hilton's Housewares Collection


In Fall 2022, Paris Hilton released a collection of housewares and kitchen items on Amazon. The collection includes numerous bedazzled but practical kitchen tools that match her distinctive style for both cooking and entertaining. There are heart-shaped charcuterie boards, pink and gold knives, and an iconic teapot that says "That's Hot."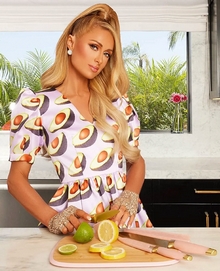 The collection includes over 35 glamorous appliances and accessories, such as non-stick pot and pan sets, rhinestone-encrusted drinkware, and even mirrored cosmetic mini fridges. Chocolate heart molds and diamond and unicorn-shaped cookie cutters complete with a baking sheet and reusable piping bags are also available. There are also wine chiller sets that come with a bottle opener and diamond wine stopper in gold, black, and white.
The Paris Hilton Housewares Collection is affordable, with prices ranging from $19.99 - $129.99. Consider exploring the new Paris Hilton Houseware Collection if you want to add some sparkle to your living space, or if you're looking for Valentine's Day home decor or items to complement your Barbie Dreamhouse theme. The collection offers a range of home chef and princess-approved pieces.
Cookware
Mini Fridge
Drinkware
Cutlery
Gadgets and Bakeware