Charity Work

The media rarely reports about Paris Hilton's charity work. She was inspired to help those in need by her mother, Kathy Hilton, who also does her part. Kathy has always encouraged her family and children to do charity work since they were little. Paris may be an entertainer and businesswoman, but over the years, she has contributed to charity in many ways.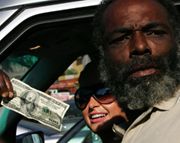 Paris is more involved with children fundraising. She is also involved in finding solutions for those who suffer from breast cancer. She often visits many children hospitals and works for children's charities, specialized in multiple sclerosis and AIDS cases. She helps those who are less fortunate and live in homeless shelters. Furthermore, she's not only an animal lover, but also an animal activist. When she viewed a video of an animal being brutally killed for fur, she promised to never wear real fur again.
Many times, she goes through all of her clothes and makes a huge closet sale to donate all the money raised to charity. The Hilton family does this fundraising once a year, as well. Paris always donates countless number of old and new clothes to charity, and even to her fans. Another way of raising money is by simply attending or hosting a party and giving the amount she gets paid to charity organizations.
More info about Paris' charity work will added later.