Hilton Family
Paris Hilton is indeed an heiress to the Hilton Hotel fortune. Her great-grandfather is Hilton Hotel founder, Conrad Hilton and her grandfather is Chairman and heir to Hilton Hotels, billionaire Barron Hilton. In addition, her aunts from her mother's side, are Kim Richards and Kyle Richards. Both are actresses like her mother, Kathly Hilton. Kyle Richards is famous for her small role in the movie "Halloween" (1978). Kim and Kathy appeared in the reality show "The Real Housewives of Beverly Hills" which aired from October 2010 to January 2011 and starred alongside Taylor Armstrong, Lisa VanderPump, Adrienne Maloof and Camille Grammer.
Conrad Hilton

Conrad Hilton was born in San Antonio, in 1887. He first founded the hotels in 1919. The first Hilton Hotel opened in Dallas, in 1925. Over the years, more and more Hilton Hotels were opened by Conrad. Soon, he became one of the wealthiest men on Earth. In order to achieve his goal, he bought several hotels such as Chicago's Palmer House and San Francisco's Sir Francis Drake. When he died in 1979, Barron Hilton, his son, took over his Hilton Empire from a Catholic church, who owned the hotels after Conrad's death.
"Success seems to be connected with action. Successful people keep moving. They make mistakes, but they don't quit."
Barron Hilton

As of today, Barron Hilton is still one of America's most successful businessmen. His net worth is over $1 billion according to Forbes magazine. It was actually in 1988, when Barron Hilton took over the Hilton Empire. He is now Chairman of the hotels. Barron Hilton and his late wife, Marilyn Hawley, had 8 children who one of the them is Rick Hilton, Paris Hilton's father. Late Marilyn Hawley died in March 2004.
Rick Hilton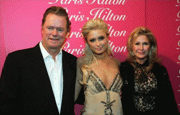 The net worth of Paris Hilton's father is about $300 million. He is currently Chairman of Hilton and Hyland Real Estate. In 2004, Rick was supposed to launch a TV show called "777," but never did. Like Kathy Hilton, Rick has been very supportive of her daughter, Paris, and he has appeared in many of her fragrance and other launches.
"It is interesting that the Hilton name has been branded as a hotel name. But now with Paris and Nicky's success my poor father who has worked his whole life, people come up to ask if he is related to Paris and Nicky and they do it to me too. It is hilarious."
Kathy Hilton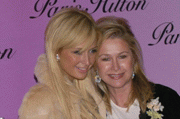 Many people are surprised to learn that Paris Hilton's aunts are Kim Richards and especially, Kyle Richards. That's of course, because Kathy Hilton (Kathy Richards), who married Rick Hilton at the age of 19, is Kim's and Kyle's sister. As a child, she was an actress and like her daughter, a model. She has played in many TV shows like "Family Affair" and "The Rockford Files." She also was host of the TV show "I Want to Be a Hilton" which was aired on NBC.
More About The Hilton Family
Larry King talks with the Hilton family, Rick, Kathy and Nicky Hilton.
Message to Kathy
June Robertson, who worked for the Hilton family in 1996, had this message to say about Kathy.
I went to work for...and lived with...the Hilton family, in 1996. I came to know ..'Mrs H'..(as I called her).. as a truly..'down to earth'..lady. She was easy to talk to and I felt that she really respected me for my experience and knoweldge. In fact, she came to trust me and always asked for my opinion, if it was needed. I was impressed with the relationship between Kathy and Rick Hilton. There was always an 'unspoken' communication between them, filled with love, for each other. Kathy, is a lady who has the ability to live in the 'real' world, and also, in the world of 'society'. She is wonderful. Her beauty is obvious, and this has been handed down to her four children. Barron was my favourite...he is sensitive and handsome. Paris, is gorgeous and sweet....not like anything in the tabloids. I think that the most impressive thing was, that Kathy wanted her children to be as 'normal' as possible. She strived to make sure that all of them understood what it was like to..earn a living, as she had to do. I think she has succeeded. My memories of... 'Life with the Hiltons'... are all positive. Millie...you were a wonderful co-worker...one I will never forget...you love the family as much as I do...and, you were always there for me. I love you all.