Paris the Company Owner

Description
Paris Hilton is listed as President of three businesses, two of which are located in Beverly Hills: "Paris Hilton Entertainment" and "Paris Hilton Enterprises." Heiress Records is located in Carlsbad, North of San Diego.
Paris Hilton Entertainment, based in Beverly Hills, California, was established in 2006 to leverage the appeal and talents of Paris Hilton, designer, recording artist, actress, model, and author. The company manages all brand licensing, entertainment, and endorsement businesses for Paris Hilton. Specifically, Paris Hilton Entertainment focuses on the development of Paris Hilton-branded fashion, beauty, and lifestyle products, as well as her ventures in film, television and music. As the face of the company, Paris Hilton takes an active role by overseeing product development, design, marketing, and promotions for Paris Hilton Entertainment.
The Paris Hilton Entertainment logo you see above is a reproduction of the original version.
Logos and Symbols I
Paris trademarked her name in mid 2004 for use on fragrances, body lotion, bath gel, soap, cosmetics, etc. Below is a picture of the first Paris Hilton symbol she adopted in 2004.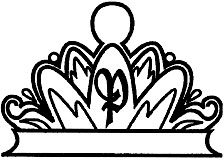 Logos and Symbols II
Paris also adopted a logo for her name. This one surfaced in 2004 when she started launching her fragrances. It is the official logo and font of her name.

Logos and Symbols III
Paris later introduced another logo and symbol. The symbol below is the official one that is used to represent her. It can be found on her footwear and clothing collection. The Paris Hilton symbol is placed between her first and last names.

Logos and Symbols IV
In early 2010, Paris revealed another new logo with the launch of her official website ParisHilton.com. The logo is titled "PARIS HILTON AND THE LETTER P." Given description of the logo: "The mark consists of a Crown design with a stylized 'P' and diamond period design, a swirl design on each side of the letter 'P' and the words 'PARIS HILTON'".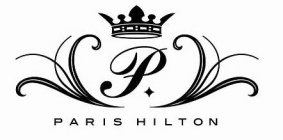 Location
Paris Hilton Entertainment is located at:
250 North Canon Drive
2nd Floor
Beverly Hills
California 90210
USA