Paris the Movie Star

Big Screen Movies
Repo! The Genetic Opera (2008)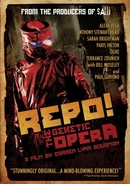 In the year 2056 - the not so distant future - an epidemic of organ failures devastates the planet. Out of the tragedy, a savior emerges: GeneCo, a biotech company that offers organ transplants, for a price. Those who miss their payments are scheduled for repossession and hunted by villainous Repo Men. In a world where surgery addicts are hooked on painkilling drugs and murder is sanctioned by law, a sheltered young girl searches for the cure to her own rare disease as well as information about her family's mysterious history. After being sucked into the haunting world of GeneCo, she is unable to turn back, as all of her questions will be answered at the wildly anticipated spectacular event: The Genetic Opera
Purchase Repo! The Genetic Opera DVD from Amazon.com
Purchase Repo! The Genetic Opera Blu-ray from Amazon.com
Purchase Repo! The Genetic Opera Soundtrack from Amazon.com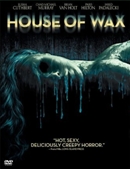 Carly Jones (Elisha Curtberth), her bad boy brother Nick (Chad Michael Murray), her boyfriend Wade (Jared Padalecki), and her friends Paige (Paris Hilton) and her boyfriend Blake (Robert Richard) and Dalton (Jon Abrahams) travel with their luggage to another city to watch an important game. They decide to camp in a field halfway and proceed their journey on the next day. However, the fan belt of Wade's car breaks and he stays with Carly to buy a new one in a close town, where there is a house of wax. When they arrive in the place, they realize that the place is a ghost town, and two deranged former Siamese brothers have transformed people in wax statues.
Purchase House of Wax DVD from Amazon.com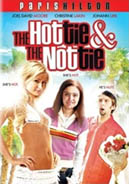 The story is about two best friends, Cristabelle Abbott and June Phigg. Cristabelle really loves June. She doesn't care about June's looks or personality, even though everyone else is cruel to her. Twenty years later, Cristabelle meets her school crush, Nate Cooper, who was looking for her. After tracking her down, they both fall in love again, but Cristabelle won't date anyone until Nate finds someone special for June. Nate is now looking for guys who would consider hooking up with June, so that he can have Cristabelle.
Purchase the Hottie and The Nottie DVD from Amazon.com
Direct-to-Video Movies
Paris Hilton has appeared in many low-budgeted movies because she is still practicing her acting skills. Most of these Direct-to-video releases aren't cinema quality films, and they're not intended to be. However, if you're a huge fan of Paris, you might want to check them out.
Nine Lives (2002)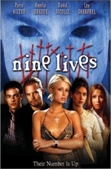 Tim plans to spend his 21st birthday at his Scottish estate with eight of his closest friends. Amongst the excitement of rediscovering old friendships, no one minds that a snowstorm has cut them off from the rest of the outside world. Everything is set for the perfect weekend, until one of the guests stumbles across an old history of the house with the power to unleash the horrors of Scotland's past. The book tells of Murray, the old Scot patriot, who has had his eyes torn out and his house taken away during the English invasion. Intent on exacting bloody revenge on the reunited English friends Murray possesses the body of a guest and turns him into a murderer. He seems impossible to stop as when the possessed guest is killed, Murray passes into the killer to continue his mission of murdering all nine of them. It is survival of the fittest as the friendships are pushed to the limit. No one can guess who the next killer will be or how to break the chain. Only one will survive.
Purchase Nine Lives DVD from Amazon.com
The Hillz (2004)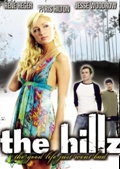 The Hillz is a surreal look at four teenage boys coming of age. This slice-of-life comedic drama is set in an affluent neighborhood of present-day America. The story chronicles these teenagers' pursuit of respect, friends, girls, and the almighty dollar (aka STATUS). After a year away at college, our hero, Steve (Jesse Woodrow) returns home to find his friends haven't changed, but his old neighborhood is remarkably different. A stellar athlete, Steve is on a high from recently winning the College World Series. He's got his future and he knows it: girls, money and a sure top-ten pick in the Major League draft. The only thing missing is the only thing he can't have: the gorgeous Heather Smith (Paris Hilton). On a mission to win Heather over, Steve finds himself up against Heather's seemingly perfect boyfriend, Todd (Jason Shaw). To make matters worse, Steve discovers his beautfiul suburban hills have been turned into an ultra-violent drug zone, controlled by his own high school friends. The ruthless gang is led by the sadistic Duff (Rene Heger), Steve's best friend and most loyal supporter. In an effort to get what they want, and with no adult supervision, they are left to their own devices, which more often than not lead to dangerous results. The Hillz follows the roller coaster ride of these teenagers, who are similar to any kid in America, as they experience marginality, popularity and destruction while searching for love, power and a place in society.
Purchase The Hillz DVD from Amazon.com
Bottom's Up (2006)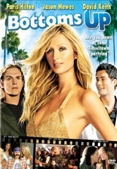 Owen Peadman (Jason Mewes) is a Minnesota bartender who arrives in Los Angeles to try to help his father raise money to save his small restaurant. Owen shacks up with his very gay uncle Earl (David Keith) and tries to integrate himself into the high society of Hollywood where a chance run-in with a wealth socialite named Lisa Mancini (Paris Hilton) and her uptight actor boyfriend Hayden Field (Brian Hallisey) where Owen, using a little influence and blackmail, gets a taste of the fast and sordid and scandalous lifestyles of the Hollywood upper crust while dealing with his growing romantic feelings he has for Lisa.
Purchase Bottom's Up DVD from Amazon.com
Pledge This! (2006)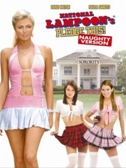 Get ready for the raucous, unrated version of National Lampoon's Pledge This! starring Paris Hilton and Paula Garces (Harold and Kumar Go To White Castle). A group of freshman female misfits will do anything to get into the Gamma, Gamma Sorority but first they'll have to impress Gamma president Victoria (Paris Hilton) . Soon it's all out class warfare between these pledges and the beautiful "it" girls who rule the sorority scene. It's a hilarious comedy in the over-the-top tradition of the Old School and Van Wilder comedies.