Paris Hilton Handbag Line Collection


"I am so proud and so excited for my new handbag and accessories line." - Paris Hilton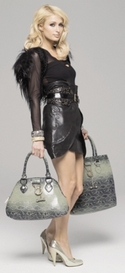 From rhinestones galore to chic metallic trim, the Paris Hilton Handbag collection will benefit anyone from a real celebutante to a celebutante in training. The whole collection is inspired by Paris' personal taste: sweet and feminine, yet sexy and trendy. From the "of the moment" style savvy diva to the lady who loves the "classics," Paris has a style for everyone.
Paris and Retouch Brands, producer and distributor of Paris Hilton handbags, work very closely together to create each new collection. Needles to say, every handbag and accessory is co-designed and approved by Paris.
A general characteristic about the collections is that all products reflect the taste and style of Paris. The results show for themselves; daring products, sexy designs, high quality craftsmanship, excellent hardware and colors and fabric combinations that are spot on!
Retouch Brands ships and delivers to all countries, using FedEx Express. They offer free shipping to on every orders priced 99 euro (about 150 USD, 750 DKK, 90 GBP) or greater using FedEx. The modes of payment available are VISA, MasterCard and PayPal as well.
You can search for Paris Hilton handbags by category, name and color!
Note: The Paris Hilton Handbag collection is currently available in the Asia and the Middle East. However, it is temporally unavailable in North America.
Below is a collection of clothes and accessories as seen on Paris Hilton.
| | |
| --- | --- |
| JJ Winters Long Croc Clutch | JJ Winters Hand Held Clutch |
| | |
| --- | --- |
| JJ Winters Suede Fringe Bag | Love Quotes Italian Linen/Viscose Scarf in Blue Pearl |
| | |
| --- | --- |
| Doma Leather Mandarin Collar Jacket | Siwy Denim Hannah Jeans in Snowstorm |
| | |
| --- | --- |
| Black Orchid Denim Jeans | Rockstar Denim Skinny Cargo Pants in Army Green |
| | |
| --- | --- |
| Gypsy 05 Emma Silk Tube Maxi Dress | Brian Lichtenberg One Shoulder Padded Dress |
| | |
| --- | --- |
| Wildfox Lightening Bolt Shoulder Pad Sweater | Work Custom Zeppelin Leggera in Black |
| | |
| --- | --- |
| JJ Winters Sophie Purse | Lauren Moshi Lily Guns Swing Tank |
| | |
| --- | --- |
| Black Orchid Denim Jeans | Nation LTD Rio Dress |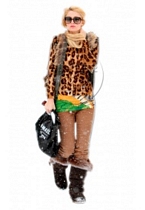 Australia Luxe Collective Nordic Angel Boot