Paris Hilton Press-On Nail Line Collection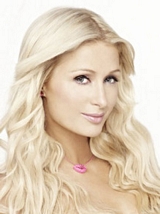 Perfectly manicured nails are a beauty basic for any A-lister worth their salt and with Paris Hilton by Elegant Touch, ladies can choose from four different designs of false nail that fall under her favourite looks. Paris has personally selected the styles, shapes, colours and gems on each nail type to make the Paris Hilton by Elegant Touch nails a key element of these hot looks.
All celebrities know that chipped nails are a definite 'no-no' for red carpet events, so try the Paris Hilton by Elegant Touch Hollywood Glamour Nails for your version of her glamorous look. These new nails take a walk on the wild side from the traditional French manicure with a dark red nail bed and a narrow silver glitter tip, adorned delicately with two small diamante stones on the outer tip of four fingers.
Go for gold with Paris Hilton by Elegant Touch Party Girl Nails. The black and gold decorated nails with double star pattern on four of the nails, and a single star pattern on the rest, give a quick fix for all your diva dance moves.
The Paris Hilton by Elegant Touch Super Girly Nails will finish off your flirty look with a fuchsia flourish to a natural looking nail. The hot pink tips, complete with iridescent glitter strip between the nail bed and tip, add a tantalising extra touch!
The Paris Hilton by Elegant Touch Natural Beauty Nails with natural/nude base and white flower-lined tip with delicate silver decoration, are a fabulous way to add a twist to the barely-there manicure, with a delicate floral finish.
| | |
| --- | --- |
| Hollywood Glamour Nail | Natural Beauty Nail |
| | |
| --- | --- |
| Party Girl Nail | Super Girly Nail |
Elegant Touch
Lashes are simply a beauty staple for a girl like Paris, who helped pioneer the current lash trend and has now created her own range, complete with four different designs. Paris Hilton Lashes by Elegant Touch lashes reflect her favourite flirty looks including Hollywood Glamour, Party Girl, Super Girly and Natural Beauty and ensure she has the perfect lash for every occasion.