Paris Hilton's Creativity Collection


"These fashion kits reinforce creativity and individual style. I hope my collection will inspire young women and give them a greater sense of accomplishment and self confidence." - Paris Hilton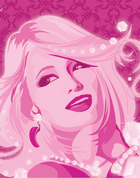 Once style, elegance and glamour meet the universe of arts and crafts. We are witness to the realization of an unlimited world of imagination, where daring and beauty rule.
The Creativity Collection by Paris Hilton was created and designed for teens and young adults. The line consists of scrapbooking accessories, albums and embellishments for the consumer to personalize their memories, objects and fashion accessories.

Flowers & Lights
24 Sheets Pad


Flashes & Stars
24 Sheets Pad

A Free Giveaway from the Creativity collection
Organized by Paris Hilton Site
Win the Skeleton item (Decorative Rhinestones 2.5 x 4) from the Paris Hilton Creativity collection!
To enter, send an email to tqotd@hotmail.com. Be sure to include your full name and mailing address. The subject line should read "Creativity Giveaway." The contest ends at midnight (EST) on February 8, 2009. One winner will be chosen at random from among the entrants.
February 20, 2010: The winner of the Crealitity contest is Doreen S. from Malta.
Please, only one entry per person; duplicate entries will not increase your chances of winning. Contest is open to all international residents.
Paris Hilton presents the Creativity collection at the Craft Expo in Anahei