Biography
Paris is an entrepreneur, a businesswoman, an actress and a singer.
The people around her call her a "Workaholic."

However, the media people usually call her an "Heiress," "Celebrity" and "Party girl."
But Paris Hilton, "famous for being famous"?
Not really...
Childhood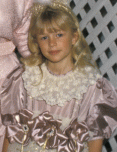 Paris has been singing and acting before she became famous in the United States and worldwide. During her childhood, she used to sing at family events with her best friend, Nicole Richie and her sister, Nicky Hilton.
In 2002, she acted in a low-budgeted movie titled "Nine Lives" as a first step towards becoming a real actress. Her goal back then was to act in low-budgeted films before hitting big ones and do some practice and get a bit of exposure. Initially, when she was a small kid, she wanted to become a veterinarian, but later on, she dropped that idea. It was her mother, Kathy Hilton, who pushed her to become one just as her husband, Rick Hilton and she encouraged her to become a successful entertainer and businesswoman. In fact, animal activist Paris is a big animal lover and has plenty of animals of all sorts in her house and her ranch in Las Vegas. Regis Philbin once called it "the Paris Hilton zoo" on his TV show, Live Regis and Kelly. In an interview, Paris said "if I couldn't act or model, I'd work in a pet store." But her reason as to why she moved to another direction for her career is "I just wanted to be a veterinarian and look after animals. But then I realised you had to put them to sleep and give them shots and stuff and I just couldn't do all that." And so, she ended up becoming an entertainer and a businesswoman, and it is a job she loves very much. Her family also supports this career, and are always there to support her at her press conferences and events.
Earning Money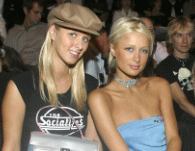 Before the huge success of her smash-hit TV show, the "Simple Life," unlike most heirs and heiresses, Paris Hilton was making money on her own at the age of 18 by modeling and doing photo shoots for brands and magazines. She was especially very popular in New York City where she was born and raised. She was also paid by appearing and partying at night clubs. Even back then, before 2003, the paparazzi had noticed her, and there were frequently articles about her and her sister, Nicky Hilton, in New York Post's Page Six.
Simple Life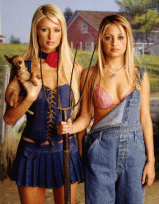 In late 2002, Paris Hilton was consistently receiving TV show offers from networks in order to begin her acting debut on television, but she refused all of them, except the Simple Life. She later explained that the offers were not original or interesting. The Simple Life according to her was something new and fresh for her to try out, even though it made fun of rich people. She liked the idea of working on a farm and trying out different average American jobs and thought that it would be really funny. The TV show, which aired on FOX, was an instant hit. 13 million viewers tuned in for the first episode, and the second one attracted even more viewers.
Paris played the role of a "stupid blond" on the Simple Life. She basically played a character. The show was intended to make her and her sidekick, Nicole Richie, look stupid and dumb. They were also forced to wear sexy clothes on the farm. The show was a big hit, and it seems that America loved Paris and Nicole's characters. After all, Paris is an entertainer; so is Nicole.
Tragedy Hits Paris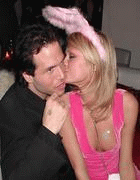 However, despite this great success, something terrible hit Paris Hilton at the same time, and she refused to come out in public and do interviews in order to promote the show. One of her ex-boyfriends, Rick Solomon, released a private tape of them on the internet. The tape spread so quickly and appeared everywhere on the net within days. For a while, Paris was the most searched celebrity on Google and other search engines, beating Pamela Anderson. Her family tried very hard to stop Rick from releasing the whole tape by suing him, but they only got sued in return for millions of dollars in damages. Rick had full rights of the highest-selling porn video in history, and Paris and her family couldn't do anything about it. When the tape was first released on the internet, Paris had reportedly stayed alone in her room for days. When she first heard it by her manager, Jason, Paris explained "I just went into shock and just went inside and couldn't come out for days. I was so depressed I didn't even want to come back to America." And about Rick, she said "I loved this guy and he betrayed me and made people judge me in a horrible way." However, Paris insists that some good things came out of the embarrassing tape after all "I'm a stronger person now. I've been through a lot of traumatising experiences at a young age, but you can't dwell on things. I didn't do anything wrong. It was someone else doing something. I don't think about it at all. Ever."
Rise of Popularity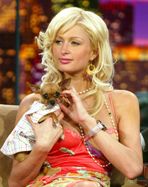 While all of this was happening, the name "Paris Hilton" was increasingly becoming popular everywhere. After a couple of months, Paris was back as stronger as ever. It seemed that her TV show and the tape made her famous worldwide, and that was only when her real career in Hollywood began.
The season one of the Simple Life was so successful that season two was ordered. During that time however, Paris Hilton was subjected to many negative press as she always has been, but she was often highly criticized for no apparent reason. This was the time when the number of softcore and hardcore haters grew, but Paris grew out of it and till today, she completely ignores them. So in 2004, since not many people knew her, she decided to release a book called "Confessions of an Heiress," which explains a lot about who the real Paris Hilton is.
Paris Hilton's Booming Career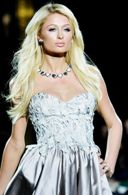 With the Simple Life series always successful and running, she appeared for the first time on a big-budgeted movie "House of Wax" in 2005. Despite all the pessimistic claims, House of Wax was as successful as any horror movie and made 12 000 000 dollars in its first week on box office. Many highly successful fragrances have been released by Paris (Paris Hilton, Just Me, Heiress), along with clothing lines and jewelleries. The fragrance itself has made more than 220 million dollars. She also had a nightclub named after her, "Club Paris." In August 2006, we saw the released of a great music album which consists of many catchy tunes such as "Stars Are Blind," "Turn It Up," and "Jealousy". She perceived that this record would redefine her image in the public's eye "People will be like, 'Oh, wow, that's what she's doing'. Because they don't really understand the work that goes into this, they don't understand the brand."
According to Paris...
What does Paris want you to know about her?
"I want them to know I'm a good person. I'm a lot different than want people think. And that I work really hard. Any girl can be whatever she wants to be as long as she is confident and believes in herself, and I think I prove that. I believe in myself and I achieve all the goals that I set. I love my life and I do so much charity work."
Why are people so obsessed with her?
"I think it's because I'm not afraid to be me. I've never changed and I never will. I can do whatever I wand and nothing bad ever happens to me."
Why work when you have so much?
"I love working. And I enjoy making my own living. It's totally important to me. I like being an independent woman."
And about her party antics?
"I work really hard and when I get time off I want to hang out with my friends and have some fun. What's wrong with that?"