Paris the Record Label Owner

Heiress Records
Paris Hilton's record label, Heiress Records, is simply another part of her empire. When she was doing her music album, she signed up to Warner Music, but she also wanted to put out her record on her own label, so she created Heiress Records. Paris also hopes to sign up other talented artists in the future to her record label "There are so many talented people out there who never get the chance." It's no surprise since Paris has always been very fond of music and creativity.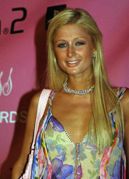 When Paris first launched Heiress Records, people thought she did it because she couldn't get a deal record with any major record studio. But in fact, when she sent a sample of her singing to record studios, they were all fighting to get her to register to their record label. In the end, Paris went with Warner Music because she had already worked with them in the past (House of Wax) and she was good friends with label chief, Tom Whalley.
Paris self-titled debut album is released on Warner Bros. Music and Heiress Records as well.
Heiress Records is located in Carlsbad, North of San Diego. It's a boutique label of Warner Bros. Records.
Heiress Records label launch