House of Wax (2005)

"It was really hard to shoot a spike going through my head. It took two days, and I was filming on night shoots, which are the worst hours ever." - Paris Hilton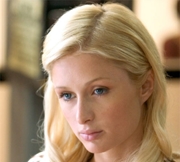 A bunch of college students are stuck in a small town where suffering for art takes on a whole new meaning in this tale of terror. Carly and her boyfriend, Wade, have hit the road with Carly's friend Paige, Carly's brother Nick, and Blake, Paige's boyfriend, to attend a football game. While camping out for the night, the group makes the mistake of getting on the wrong side of a weird local redneck. They discover that Wade's car no longer works because of a broken component. As the others continue on to the big game, Carly and Wade make their way into the small town, Ambrose, and discover that it's deserted, except for tourist attraction called the House of Wax. However, it isn't long before they find out why the wax sculptures at the museum look so real, and discover a pair of murderous brothers are keen on making them part of the next exhibit.
If you're a fan of horror movies, you'll definitely like this one. It really resembles a lot to the movie Texas Chainsaw Massacre, and it is inspired by it. But the art of this movie is also remarkable. Paris Hilton plays her first major role, but unfortunately, she has a very limited screen play.
Casts
Elisha Cuthbert .... Carly Jones
Chad Michael Murray .... Nick Jones
Brian Van Holt .... Bo/Vincent
Paris Hilton .... Paige Edwards
Jared Padalecki .... Wade
Jon Abrahams .... Dalton Chapman
Robert Ri'chard .... Blake
Dragicia Debert .... Trudy Sinclair (as Dragitsa Debert)
Thomas Adamson .... Young Bo
Murray Smith .... Dr. Sinclair
Sam Harkess .... Young Vincent
Damon Herriman .... Roadkill Driver
Andy Anderson .... Sheriff
Box Office
After months of promotion, the Box Office release of House of Wax was successful. It took second place and collected 12 077 236$ within a week.
Total US Gross: 32 048 809$
Production Budget: 35 000 000$
Worldwide Gross: 70 048 809$
Interesting Notes
Paris didn't have to audition for her part in House of Wax. The producer, Joel Silver, called her before they had even cast one person. So she was selected for her role by "default".
In order to promote the movie, Warner Brothers asked Paris Hilton's permission to sell t-shirts that read "On May 6th, Watch Paris Die" and she allowed.
While filming, she discovered that another 13 year old was having a Paris Hilton party "I didn't know her, but I just showed up as a surprise and gave her this diamond necklace. It was so fun. She was so happy and she was crying."
Purchase House of Wax DVD at Amazon.com
House of Wax Stills
05/05/05 Paris Hilton Arrives at MTV Studios to Promote Her New Film
24/05/05 House of Wax Premiere Party
06/04/05 World Premiere of House of Wax
30/04/05 House Of Wax New York Premiere
23/05/05 House of Wax promotion photocall in London, England
24/05/05 House of Wax UK premiere in London, England