An interview with Paris Hilton at the Glendale Galleria Macy's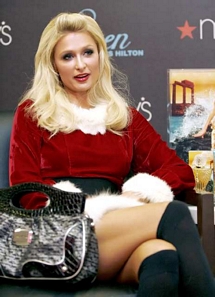 Reported by glendalenewspress.com
Zain Shauk: Since we're here at the Macy's in Glendale, I was wondering: Do you come to Glendale or Burbank often?
Paris Hilton: Yeah, I come here all the time for signings at the Macy's. I love Macy's. And I've been to the Americana a bunch of times to go eat and go to the movies. I think it's a really beautiful place. And I go to this really great Middle Eastern restaurant. It's in Glendale.
Q: Really? Which one?
A: It's like a Lebanese restaurant. It's called Carousel. It's really good.
Q: Well I know you're launching your new perfume here. How would you describe it to people who haven't heard of it?
A: It's a really beautiful perfume. It smells amazing. It has honeysuckle in it and apricot, and it's just a perfume I wear every day, and I get so many compliments on it. And all my friends, they love it. And it makes an amazing Christmas gift.
Q: What was the inspiration for the perfume?
A: The last perfume I did was called Fairy Dust, and it was inspired by Tinkerbell because I love fairies. This one, I wanted something that a woman could feel really sexy in, just kind of like a goddess, the sirens, or mermaids. I just thought that would be a really great photo shoot to have on the bottle and everything.
Q: I noticed from the marketing materials that it is something that men couldn't resist. Why was it important to have something that men couldn't resist? What about what women want?
A: I think every woman wants to be irresistible, and this is a perfume that you can't resist. Once you smell it you just have to have it.
Q: You do more than just sell perfume. You have a lot of products that are under your name. Where do you see yourself going professionally?
A: I consider myself a businesswoman and a brand, and I'm going to continue building that brand. But I also am an entertainer. I love to sing. I love to dance and act and produce and design, so I pretty much do everything, and that's a lot of fun, just having all my dreams come true.
Q: Why should people buy into the Paris Hilton brand? What does the Paris Hilton brand represent?
A: My brand is always fashionable. It's hot. It's always in style. It's great quality at a great price. It's really affordable and I just make it — it's just me. Everything I design is something that I love and I'll wear, and it's something that's really popular.
Q: When you're shopping, or out and about, lots of cameras are often following you. How do you deal with that?
A: I think it's just been happening for so long that I'm used to them. I just don't even notice it anymore. It does get a little bit annoying sometimes, but it's just part of being in this business so I have to put up with it.
Q: When people see those pictures and the stories that come with them, a lot of that comes out negative. Do you think that ends up sending mixed signals about the Paris Hilton brand, and how do you mitigate that?
A: I know that my fans and everyone who knows me, the real me, knows they can't believe that stuff. I don't believe anything I read in tabloids because negative press sells. They don't want to hear anything positive, so I think that anyone who knows anything about the media knows that 90% of it is just made up.
Q: I know that we're in a recession and that people are concerned about spending money, and you mentioned your perfume being affordable. But when people see your photos and they learn that Paris Hilton is shopping or going out, how do you reconcile that people might see you as disconnected from reality, where they have to deal with recessionary issues, but you're out shopping?
A: I think it's important during a recession to help the economy and by shopping, and by going to these stores it really is helping out different stores. There's a lot of people who are in trouble, and I think that a lot of people were hit by the recession, but when people are going out and spending, it helps them out and helps businesses, so I consider it a good thing. And I work really hard. I've done this all on my own, and I think that I deserve to be happy and do that.
Q: Are you doing anything specifically to help people during the recession?
A: Definitely. I'm involved in a lot of charities. That's always been a big part of my life. I work with the Los Angeles Children's Hospital, as well as the shelters in downtown L.A. for animals, and for breast cancer and multiple sclerosis and AIDS. It's something that has been instilled in me since I was a little girl, and I always think it's really important to give back, especially when God has really blessed you. It's good Karma, and it makes me feel great. It makes me feel really good just to see a smile on someone's face when I do something nice for them.

Posted: December 9th, 2009
Comments: 1
Comments