Any PHS Fans Want To Be Paris Hilton's Best Friend?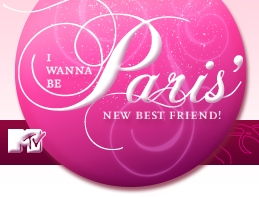 If you're at least 21 years old and reside in the United States, you're qualified to become Paris Hilton's new best friend. Note that if you're 14 years of age or older (and live in the US), you can also participate and vote for your favourite competitor on the official website.
I know Paris said only those who live in LA can participate, but registration on the website is open for all Americans. It states that you must be 18 years of age, but I think it's a mistake from MTV's part.
Anyway, if you guys want to participate, open an account on ParisBFF and send me a link to your profil (plus a picture). I'll post it and promote you on ParisHiltonSite.net.
I'm obviously going to first recommend those post here because I know them better and trust them.
Be sure to write a decent description about yourself on your profil or else I won't accept it. And of course, I suggest that half of your description be about Paris (what you like about her and why you think you should be her best friend, etc). Make it unique by writing what I've thought you about her lol. Just kidding!
You never know, Paris might pick you. You can either send me an email or post it here. I'll set up a page if many of you decide to participate. Serious people only!

Posted: March 14th, 2008
Comments: 2
Comments