Britney Spears Blames Paris Hilton For Her Problems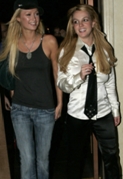 Britney Spears is blaming Paris Hilton for hurling her into the anti-panty, head-shaving downward spiral which landed her in rehab … and now she wants someone to pay!
According to Page Six, Britney is enraged with her manager Larry Rudolph for introducing her to "nemesis" Hilton last November — and reportedly gave him the axe for it last week. But as of this morning, TMZ has confirmed that Rudolph has not been been fired … yet.
As TMZ first reported, Paris thought of herself as a role model for Spears, and even claimed that Britney was "grateful to be under Paris' wing." But shortly after the alliance had been formed, the lovefest crashed hard and the two haven't partied together since.
TMZ
I'm sorry to say, but I wouldn't blame Britney Spears' problems on Larry Rudolph or Paris Hilton. The problem is Britney, herself. She wasn't able to draw the line of limit, like Paris does. Where's the balance between partying and working?
It's easy to blame on others, but she's old enough to think.
Anyway, I wouldn't take this report too seriously. It's probably a bit made up. I wouldn't trust Page Six too much.
But I have to say, Paris + Britney = Rocked

Posted: April 17th, 2007
Comments: none