Catch a screening of Repo! The Genetic Opera in New York City this Saturday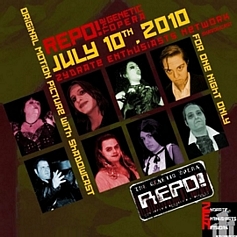 Saturday July 10th, 2010 Wings Theatre Company hosts Repo: The Genetic Opera (REPO!) for a special engagement movie screening and shadowcast performance by the Zydrate Enthusiasts Network (ZEN). Pre-show entertainment featuring a live presentation of The Necromerchants Debt will start at 11pm with REPO! beginning at midnight. ZEN welcomes stage and screen REPO! alumni CJ DeAngelus as well as actor Tony Perry who appeared as The Repo Man in the NYC stage production held at Wings Theatre in 2005.
Come out and join us for a night of celebration as REPO! revisits its roots at Wings Theatre Company located on 154 Christopher Street.
Tickets are $15 and can be purchased or reserved online at http://www.wingstheatre.com or by phone by calling 212-627-2961. Doors open at 10:30pm.
The Zydrate Enthusiasts Network (ZEN) is pleased to present REPO! in New York City in the same theatre that hosted the show 5 years ago. For more information on ZEN visit http://www.repozenny.com

Posted: July 6th, 2010
Comments: none