Description of Paris Hilton's Fourth Fragrance "Can Can"
Thanks to visitor Ruben Contreras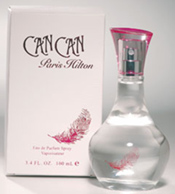 As previously reported, Paris Hilton will introduce her fourth women's fragrance in October this fall called Can Can. We now learn that it was inspired by the 2001 movie Moulin Rouge and in particular one of the songs from the soundtrack, "Lady Marmelade". It was created by nose Jean-Claude Delville and is described as fruity floral oriental with a fuller body and a sexier personality as it aims to follow the oriental trend.
Can Can is a blend of top notes of clementine flower, cassis and nectarine; middle notes of wild orchid and orange blossom, and bottom notes of soft musk, amber and woods.
It will retail $45 for a 1.7-oz. bottle and $55 for 3.4 oz. Expect to see models dressed in Moulin Rouge attires handing out blotters made of feathers at counters.
wwd.com

Posted: July 20th, 2007
Comments: 6
Comments