Download the fifith episode of Supernatural 5
Visit the official website of the Supernatural series.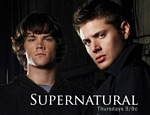 Sam and Dean head to a small town where people are murdered by famous dead icons. However the brothers come to a dead end when two teenagers reveal they saw Paris Hilton kidnap their friend.

–
Paris Hilton scene only: Supernatural 5 – Episode 5 – Paris Hilton Scene [XviD format, 23.6 MB]
Full episode: Supernatural 5 – Episode 5 [XviD format, 350 MB]

Posted: October 9th, 2009
Comments: 7
Comments