Extra Paris News: Paris Album: Remixes And Unreleased Songs

PRESENTS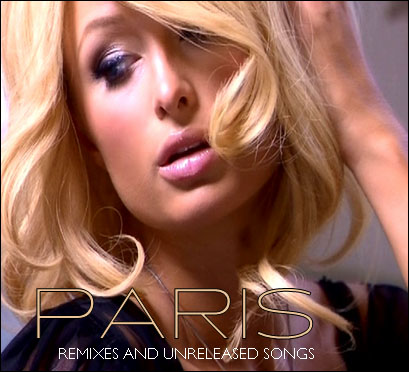 Originally planned to be released on June 1st, 2007, the second week of "Extra Paris," but because the buzz will be mostly about Paris Hilton's jail time, I'm going to released it on the follwing Friday, June 8th, at 8:30pm, Eastern time. I have to let the storm pass by first, unfortunately.
It's such a secret that I'm not going to say anything about it. Unlike other files, I won't even give you the list of tracks until June 8th, 2007, at 8:30pm. It's the crème de la crème of "Extra Paris."
All I'm going to say is that some of you will be very happy to have listened to the songs, and others will probably end up being disappointed. Reactions to this will be very mixed. But there's one thing I can garantuee you, you won't be 100% disappointed.
Yes, there are unreleased songs, but they're only clips. In other words, you won't find any full unreleased songs. I won't tell you how many unreleased clips there are. ;P Sorry, I have to be extremely tight-lipped about this for some reasons… Outch!
I'm also happy to say that the whole CD is longer than the original album!
And let me also assure you, you won't find any of the remixes in stores. You can't buy them. 95% of the stuffs you will be downloading from "Extra Paris" are not available in stores!
On June 1st, 2007, I will also released a small petition to ensure that a second album from Paris Hilton is released soon. It will be a message directed to Paris and Warner Music in order to keep this great Paris project alive.
I'm not planning to get thousands of signatures in an instant, and I'm not expecting to, but hopefully, it will get some noticed after a while.
I'm sure that after hearing this CD, many of you will have the urge to sign the petition because the unreleased songs are just as good as the songs on her current debut album "Paris"!

Posted: May 21st, 2007
Comments: 5
Comments