Fairy Dust by Paris Hilton Fragrance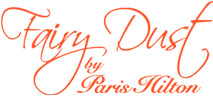 Fairy Dust is Paris Hilton's newest fragrance. It will be out in October 2008. The photoshoot for Fairy Dust was done in May 2008. I don't think there will be male version of Fairy Dust!

Paris Hilton waves her magic wand and enchants young women in every corner of the world with Fairy Dust, her magical new fragrance. It invites women of every age to believe that with a sprinkle of Fairy Dust dreams really can come true. There's just a hint of magic in this captivating new fragrance from Paris Hilton.
Parlux (Thanks to Kevin)

Posted: August 4th, 2008
Comments: 16
Comments