Five Reasons to Watch The Dog Who Saved Christmas Vacation
The Dog Who Saved Christmas Vacation premieres Sunday, Nov. 28 at 8/7c on ABC Family.
Five Reasons to watch the family movie, which stars Paris Hilton as voice of Bella according to Mario Lopez, one of the co-stars: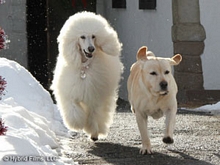 No. 1: He voices a dog — a female one
Lopez tells TVGuide.com that not only do his nieces and nephews get a great kick out of hearing him voice a dog, but that they all had a laugh when they found out the pooch is actually a female.
No. 2: It's his first family film as a father
Although he's always prided himself on being a family man, Lopez says he's even more happy to do a family-friendly movie now that he has a little one, Gia, with girlfriend Courtney Mazza.
No. 3: Adults can tune in, too
Parents can look for some subtle, mature humor. "We put in enough adult humor will keep them entertained as much as the kids," he says.
No. 4: Paris Hilton's first voice-over role
Lopez says Hilton does a great pampered poodle. The heiress voices Bella, a new puppy with whom Zeus is immediately smitten.
No. 5: It has a happy ending
Viewers can expect to cry happy tears, as Lopez says his favorite scene of the film is "the end when I actually save [vacation].
Reported by TVGuide.com

Posted: November 27th, 2010
Comments: 4
Comments