Happy Halloween 2011!
Paris Hilton celebrated All Hallow's Eve by attending a party at Roosevelt Hotel on Friday night as well as another one at Universal Studios on Saturday in Hollywood.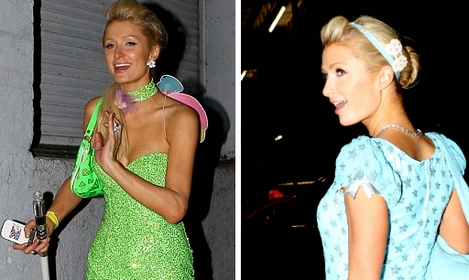 Posted: October 31st, 2011
Comments: 5

From: Lacey
Time: October 31, 2011, 11:43 pm
Admin, Is P dating Afrojack? She tweeted a pic of him sleeping and called it cute..
From: Jen
Time: November 1, 2011, 10:08 am
The blue ballerina costume was my favorite too.
From: admin
Time: November 1, 2011, 7:07 pm
I don't know; I can't confirm anything.
From: Jen
Time: November 2, 2011, 9:11 am
I think they're just friends. They don't tweet like they know each other very well.
Besides, the man is in a different city around the world almost every night, nothing longterm could possibly exist under such circumstances.
From: Laura
Time: November 4, 2011, 7:28 am
Love u Paris,love ur Halloween dresses, Tinkerbell and Cinderella so chic lol