Happy Paris Hilton seems to have found true love!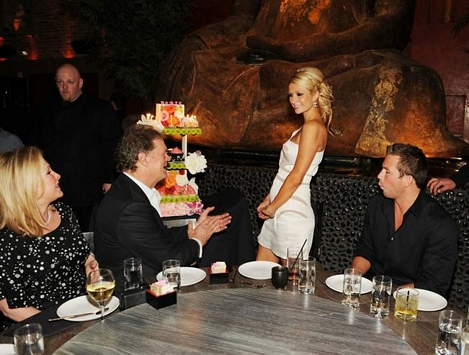 In Las Vegas, Doug Reinhardt told Las Vegas reporter Robin Leach: "The engagement will still come as a surprise in the very near future." Paris added: "We're so excited about this. I can't wait for our future together. It will be amazing."
Rumour has it that they're planning to turn the engagement, wedding planning and ceremony into a reality TV show, but that's just a rumour.
Paris also said: "I see a very bright and happy future. He's taught me how real love can feel. Everything is going beautifully between us."
"I am so happy and so in love. Of course we've talked about it all: getting engaged, getting married and our life together, and we're excited about it all. I already have my birthday wish come true in Doug, so I can only now wish to continue having another successful year and having fun with family, friends and loved ones."
I love how my parents love him. We all get along famously. His parents, my parents. It's just great because we're all family already. I even think of his sister Casey as my future sister-in-law."
About wedding plans, "we'll see what happens in the future, but right now we are so happy to be together, and we are really in love," she said.

Posted: February 22nd, 2010
Comments: 3
Comments