Have Kimberly And Kelly Replaced Paris And Nicole?
Member Benji's Investigation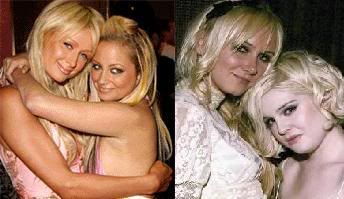 It has been reported recently that Kelly Osbourne and Kimberly Stewart have been shooting a reality TV series for E! [http://tv.popcrunch.com/kelly-osbourne-and-kimberly-stewart-team-up-for-reality-show/]
The two are childhood friends with Paris & Nicole themselves, but the premise of their new show thus far has been kept under wraps.
It may be due to the fact that E! has been shooting either a sixth season or a spinoff of "The Simple Life" featuring the new duo!
Today while on Youtube I stumbled across a video of Perez Hilton visiting Kelly on the set of the new series. [http://www.youtube.com/watch?v=ikt6pqFpQWY]
It was posted by Celebrity Babylon, who have listed in the description of the video: "Celebrity Babylon was there to watch your favorite celebrity blogger, Perez Hilton, on set with Kelly Osbourne for the filming of The Simple Life 2"
"The Simple Life 2"? Could this be true? With Paris stating she wants to start anew and Nicole facing jailtime, it appears E! may have found two new girls "both filthy rich" to fill their shoes.
It just might be true. Time for some new blood in the series? Only time will tell…
—
This was written by Benji, a visitor of ParisHiltonSite.net.
I personally haven't heard anything about this new reality show starting Kim and Kelly, but I just don't think E! would consider replacing Paris and Nicole with them. I'm just more inclined to think it's for another show.

Posted: June 27th, 2007
Comments: 6
Comments