James Blunt, Paris Hilton And That "Spy Kids" Girl At C Lounge
What's/Where's C Lounge? No idea. We know Paris Hilton is still in Toronto shooting Repo!, but C Lounge is probably a club, or maybe a place where James Blunt sang.
Anyway, so here's a photo of Singer James Blunt, Singer/Actress Paris Hilton and very talented Actress Alexa Vega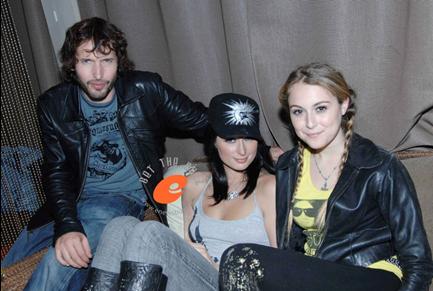 Posted: October 2nd, 2007
Comments: 7

From: Jen
Time: October 2, 2007, 7:26 pm
I love the jewelry Paris is wearing.
She always is dressed just right for every occasion, and she always shows class and great style.
From: MikeV
Time: October 2, 2007, 8:12 pm
I'm loving the jet black hair!
From: drn
Time: October 3, 2007, 3:57 am
I think this pic is kind of old
From: Benji
Time: October 3, 2007, 7:13 am
This pic is new, drn/
From: Andrei
Time: October 3, 2007, 10:19 am
at this picture Paree very pretty !!!
From: Jen
Time: October 3, 2007, 6:54 pm
I'm surprised the tabs aren't making Blunt out to be her new boyfriend.
Lord knows, they've tried to link her with everyone else she barely says hello to.
From: rachel
Time: October 4, 2007, 6:48 pm
Um, she most likely did hookup with him. Except now, she has the good sense to do it behind closed doors, instead of in a public nightclub.