Judge Orders Paris Hilton To Court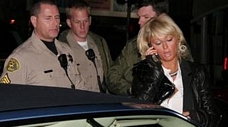 Paris Hilton was ordered Tuesday to appear in court May 4 for allegedly violating her probation in a reckless driving case by driving on a suspended license.
City prosecutors are seeking to revoke her probation on grounds that she violated its terms, which could result in a sentence of up to 90 days in jail.
The hotel heiress and TV personality was not present for Tuesday's hearing, which was conducted almost entirely with lawyers at the bench speaking privately with the judge.
At one point, however, Superior Court Judge Michael Sauer was heard saying that the allegation was driving on a suspended license. He then commented to the lawyers, "I find that a violation."
The judge later announced that the matter would be postponed to May 4 and Hilton was ordered to appear.
Outside court, Hilton attorney Howard Weitzman was asked whether the matter was close to being resolved.
"It is," he said without elaboration.
Asked what will happen on May 4, he said, "I expect to be here."
The prosecutor did not comment to reporters.
In January, Hilton pleaded no contest to alcohol-related reckless driving stemming from a Sept. 7 arrest in Hollywood and was sentenced to 36 months probation, alcohol education and $1,500 (€1,100) in fines.
She was then pulled over on Sunset Boulevard on Feb. 28 for allegedly speeding with her car's headlights off and was ticketed for misdemeanor driving with a suspended license.
Hilton's spokesman Elliot Mintz said at the time that she was not aware her license was suspended.
Associated Press
It hasn't been solved yet. Paris will have to defend herself on May 4. Did she know her licence was suspended while she was driving? Perhaps, they should do a lie detector test on her!

Posted: April 17th, 2007
Comments: 2
Comments