Judge Refused To See The Medical Evidence
What the media is barely reporting!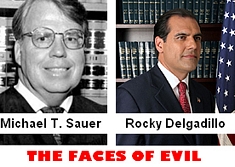 The normally polished Hilton was disheveled when she arrived at the courtroom, in handcuffs and weeping.
Her body shook constantly as she dabbed at her eyes. Several times she turned to her parents who were seated behind her in the courtroom and mouthed the words, "I love you."
During the hearing, Hilton's attorney, Richard Hutton, asked Sauer to hold a closed-door hearing on Hilton's medical condition or to conduct an independent assessment.
Sauer denied both requests and ordered Hilton back behind bars.
"The defendant is remanded to L.A. County jail," he said. "The order is final and forthwith."
The hearing had been requested by the City Attorney's Office, which had prosecuted Hilton and wanted Baca held in contempt of court for releasing the heiress despite Sauer's handwritten order that she not be given house arrest.
"This decision sends the message that no individual, no matter how wealthy or powerful, is above the law," City Attorney Rocky Delgadillo said in a statement after the ruling. "Today, justice was served."
Edited whittierdailynews.com

Posted: June 9th, 2007
Comments: 2
Comments