Keep Guys Away From Paris Hilton
So she can concentrate on her work, but kill me for posting this.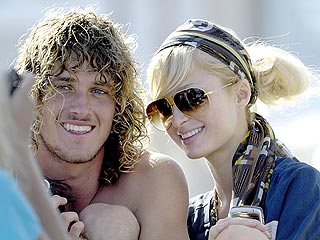 While Paris Hilton hasn't spoken about her new relationship with surfer guy Tyler Atkins, the 21-year-old Aussie has opened up about getting to know the heiress.
"She is a really smart, amazing girl and we share similar interests," Atkins tells Australia's Who.com in a new interview.
"We have been hanging out at the beach, talking about fashion and it has been lots of fun," Atkins said Thursday. "She's a cool girl and we're having a really great time enjoying each other's company."
Hilton, who has rented a house in Malibu for the summer, has been snapped cuddling on the beach with Atkins. On July 14, the pair hung out at the Lia Sophia jewelry clam bake where Hilton noshed on lobster and corn on the cob – and showed off her new Yorkie pup. Then, Hilton and a shirtless Atkins spent more time together down the beach at Rock & Republic's five-year anniversary party.
Among other things, the two share an interest in fashion. Hilton has her own clothing line. And Atkins, according to Who, is a designer for the Australia-based clothing and accessories company Rock Stars & Angels, which is available at U.S. boutiques like Kitson.
People

Posted: July 20th, 2007
Comments: 4
Comments