Let's Talk About Paris Hilton And Britney Spears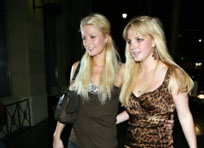 Recently, a Britney Spears fansite, breatheheavy.com, posted an article confirming that Paris and Britney are still good friends.
Britney Spears is not someone that I really care about or her music, but I've always thought that her friendship with Paris gave a different flavour and added some sort of "refreshness." You just love to see two super-powers together!
Benji, a visitor of this website, send an email to ParisHiltonSite.net about it. I also saw it on our forum. To tell you the truth, I don't see anything new in this article. I guess some Paris and Britney fans were doubting the friendship between Paris and Britney.
But a few months ago in an interview, Paris suggested that she was still friends with Britney and that she recently called her or something like that. This video was also posted on ParisHiltonSite.net, but I guess the buzz didn't kick off.
breatheheavy.com's article avoids answering the obvious question: Why aren't they seen or photographed with each other anymore? I think this is because some people think Paris is "bad influence" and that it might hurt their career or whatever. It's still not clear, but I personally can't tell you if their article is 100% reliable. Then again, there's nothing in it that isn't true.
I should also add there's no proof that Paris and Britney were seen together in that club a few days ago. They were in the same club, but not photographed together. X17 said they will post about what exactly happened, but I don't think they have as of now.

Posted: August 27th, 2007
Comments: none