New music video for sophomore album to premiere on Sunday?
Breaking News?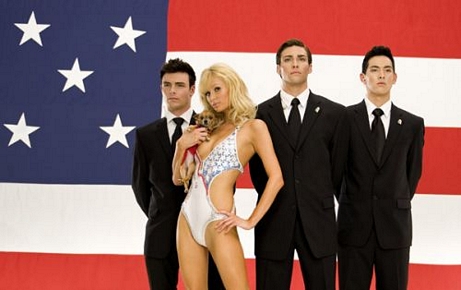 Surely if Paris Hilton wants to release her second album next month, she needs to release a new single (not My BFF) and also a new music video.
According to unreliable (or reliable) sources, she plans to release her third music video on Sunday, October 26, at 6pm PST (what time is that in EST? 3pm?) on Swag House Media.
What's Swag House Media? Well, I had never heard about it, but I did some research, and it turns out to be a record label (not sure, though).
The first official single for the sophomore album will be "Paris for President." Yes, it's one of the songs on the new CD. She recorded a music video for it in Los Angeles on October 3 (and we had no clue!).
The song was written by Paris, in collabortaion with artists Mike Green and Simon Wilcox. The picture you see above is supposed to be from the music video, I think.
So, Warner Bros. is still promoting Paris as one of their artists, but she won't release the second album on their label? I don't know, I'm so confused! But it doesn't matter. I think "Paris for President" is good first single, especially since she has received so much attention from the parody video!
I hope what I've just reported is true, or else…!
So the second album and Repo! are coming out in the same month!

Posted: October 20th, 2008
Comments: 12
Comments