OFFICIAL: I Have My "VIP Pass" To Meet Paris Hilton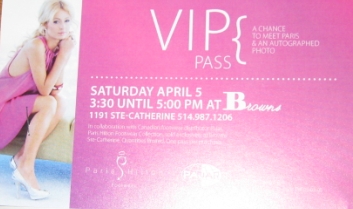 Omg you guys, today was a crazy day!
You won't believe this. My last two classes were cancelled! What a coincidence and luck! I was planning to go with my sister to Browns after school, but instead early in the afternoon, I left school and took the subway to go downtown. When I called Browns, they said that 50 people had already bought a shoe from her collection. The limit is 200 people. Here's what happened.
The staff at Browns weren't very helpful and couldn't answer many of my questions about Paris and her shoes. I had a list of shoe names that my sister had chosen from the Footwear section.
Basically, I went through hell trying to pick a shoe for her because to me, all of them look good. Her first choice was "Charme White," but the problem was that the staff at Browns didn't know the name of each shoe, and I forgot to print that page.
Then we noticed that the name of each shoe with the color is actually written on the shoe (from the inside). Finally I found Charme White and bought it.
I wasn't too pleased with the service, but I was being annoying. However, one of staff was just unfriendly and unhelpful; the other ones were ok, but clueless. One of them told me that Paris changed the time. Contrary to what the media is reporting, Paris will arrive there at 3:30pm until 5:00pm. Also, Browns has nothing to do with this event apparently. Everything is organized by the media, Paris and Pajar. Another correction: the shoes were on sale since March 28.
Anyway, I am very happy to say that my sister tried Charme White on and is extremely pleased with it. She said that on the webpage, the shoes look cheap because of the pictures, but when she saw the real thing, she said that it looks like a high quality shoe. I'm really glad she liked it. My other sister and mom liked it, too.
And finally, I have my VIP Pass to meet the singer, actress and entrepreneur Paris Hilton. Though it says "chance to meet Paris," I'm not sure what they mean by that! The only thing that is really bothering me is that the press and paparazzi are going to be everywhere inside the store. I don't think there's any way of meeting her without these people. There are also those pushy and arrogrant bodyguards that you guys were talking about. I don't know if we're allowed to take a picture with her. I can't even get answers to my basic questions. I expect the meeting to last at least a minute. We did after all buy a shoe from her collection. Also note that Paris will likely be "fashionably late." One more thing, 1:30 hrs (excluding fashionable lateness) is not enough for 200 people according to my calculations, but I'll talk about that later.
That's my experience and thoughts so far lol. Later in the day, I'll make a post about what I should ask her and everything. I need your advice about certain things.

Posted: April 1st, 2008
Comments: 9
Comments