Official Repo! Trailer Released / Tickets on Sale on July 2nd
BREAKING NEWS!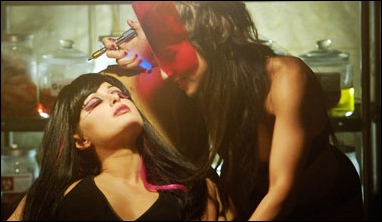 FINALLY! The official trailer of "Repo! The Genetic Opera" has been released, in time for the launch of Fantasia Festival 2008!
You guys, this is crazy! I've watched the trailer several times, and it looks AMAZING and ORIGINAL! Compare this trailer to all those movie trailers we see all the time! I still can't really say if I'm going to become fan of it, but just having Paris Hilton starring in it, I seriously can't wait to see it.
Repo! is obviously a unique movie, so as the director said, it will be hard to market it.
According to Fantasia Festival 2008, length of the movie is 1 hour and 38 minutes. I'm really not sure about this, but maybe, you have to be at least 18 years old to see it.
This is what the director of the movie, Darren Lynn Bousman, said in a statement recently:
"Fantasia is the perfect festival to premiere REPO! I'm excited about bringing the film to such a sophisticated and enthusiastic genre audience."
REPO! TRAILER
Remember when I reported that Repo! will be shown at the Fantasia Festival 2008 in July, in Montreal? Well, tickets will go on sale on July 2nd, at 1pm, at the Concordia Hall Theatre, in Montreal! It's 8$ per ticket, but I'm going to get two tickets.
The movie will be shown on July 18th, at 9:45pm, at Hall Theatre! The screening of Repo! will be hosted by the director!
Ah, I'm definitely going to be there on July 2nd, at 1pm! BUT what if there's a huge long line up, and they sell out before I get the chance to buy one? I'm going to kill myself die if I don't get a ticket!!
Credits: Scott, Fantasia Fest, Slash Film and Movies Online

Posted: June 27th, 2008
Comments: 15
Comments