Officials may ask Paris Hilton to leave Japan; Wednesday news conference and fan meeting are cancelled
Reported by the Associated Press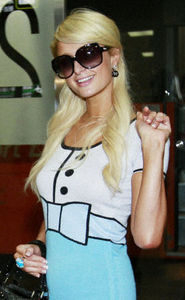 Japanese officials delayed Paris Hilton at Narita Airport while they decide whether she will be admitted to the country after pleading guilty to a misdemeanor drug charge in Las Vegas.
An e-mailed statement by Hilton's rep, Dawn Miller, said the 29-year-old was stopped by immigration authorities upon her arrival in Japan on Tuesday, one day after her plea.
Hilton was scheduled to appear at a news conference in Tokyo on Wednesday to promote her fashion and fragrance lines, but that appearance was canceled.
Narita Airport's immigration office questioned Hilton "for hours" to determine if she should be allowed to enter the country, the Tokyo Regional Immigration Bureau said, according to Japan's Kyodo news agency.
Authorities adjourned questioning and asked Hilton to stay at a hotel in the airport so they could continue immigration procedures Wednesday, Kyodo reported. There was no answer at the immigration office early Wednesday.
Under Japanese law, immigration authorities are empowered to deny entry to those who have been convicted of drug-related offenses.
Tokyo was the first stop on Hilton's planned Asia tour, during which she planned to visit Kuala Lumpur, Malaysia, and open a new retail store in Jakarta, Indonesia. Both countries have strict anti-drug laws and immigration procedures, and it was unclear whether Hilton would continue her travels.
Miller's statement said Hilton was disappointed with the scrutiny by Japanese authorities.
"Paris was contractually bound to her business trip and didn't want to let down her brands and many Asian fans," the statement said. "She intended on fulfilling her contract and is trying hard to do the responsible thing, but this is beyond her control. She is very disappointed by tonight's events."

Posted: September 21st, 2010
Comments: 10
Comments