Paris Hiltoin visits a homeless shelter
Reported by Daily Mail UK / Edited by PHS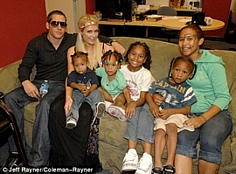 Paris Hilton and her boyfriend Cy Waits stopped by a homeless family shelter in Los Angeles yesterday to drop off some Halloween supplies and spend time with the residents.
Hilton, 29, and Waits, a 34-year-old Las Vegas club owner, dropped by a pumpkin patch to pick up a car load of pumpkins and decorations before heading to the shelter in Downtown Los Angeles, on the infamous Skid Row.
The Union Rescue Mission which Paris visited is a shelter for homeless families living on the streets of Los Angeles.
It is the largest shelter in LA and one of the largest in the whole of the United States.
They provide food, shelter, clothing, medical and dental care, recovery programs, transitional housing, legal assistance, education, counselling, and job training to needy men, women, children, and families.
Paris, on arrival at the shelter, helped volunteers unload their gifts from their car before being given a tour of the facility.
Both her and Cy then spent time talking with volunteers and workers at the shelter about the services they provide.
She then spent time hanging out with several of the shelters current residents including groups of young children and teenagers.

Posted: October 16th, 2010
Comments: 7
Comments