Paris Hilton Continues Filming ParisBFF In Japan
Paris Hilton and her contestants traveled to Japan to film her new reality show there. She may also attend the MTV awards. Paris was photographed shopping with her contestants (I think).
A few hours ago, the very unreliable news site, that spread the lie that Paris was dropped from her record label last year, reported Paris was with her contestants riding a rollercoaster at California's Knotts Berry Farm theme park for her TV show (love amusement parks!).
In other news, Paris was blogging a few hours ago. She said on her MySpace blog that her clothing collection will be available online. For the moment, you can go to Dollhouse's Paris section and sign up in order to get special promo code in the future.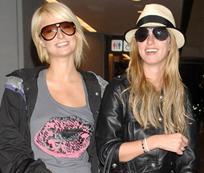 Posted: May 30th, 2008
Comments: 15
Comments