Paris Hilton creates mask to help raise funds for South African charity organization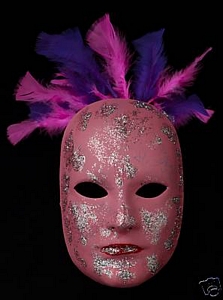 Paris Hilton has created this unique mask to help raise funds for Education Africa. Her original design features her trademark pink in her theatrical creation. This one of a kind artwork is available for you to bid for and own. The mask has been painted and signed by Paris. In addition to owning this mask if you bid enough you also get a personally monogramed (in gold thread) Paris Hilton pink satin coat hanger. All proceeds from the sale of this mask go directly to Education Africa.
See item on eBay.
About Education Africa:
Education Africa is a non-profit organisation with a proud track record of successful delivery on our many educational projects in South Africa over the past 17 years. Established in 1992, Education Africa strives to reach and uplift the poorest of the poor. The charity assists disadvantaged South Africans in their quest to obtain a quality, relevant education in order to ensure that they are in a position to become global citizens and a competitive, productive element in the local job market.
For more information, click here.
Thanks to Scot!

Posted: March 28th, 2009
Comments: none