Paris Hilton goes back to Hawaii
Reported by RadarOnline.com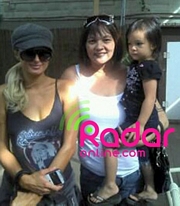 Paris Hilton is vacationing on the Hawaiian island of Molokai, RadarOnline.com is exclusively reporting. And the heiress was overheard laughing with locals that she came there "to escape."
"I'm running away from my drug charges," one of the locals who encountered her tells us Paris joked.
Paris is on what's known as the Friendly Isle with boyfriend Cy Waits who grew up there. His brother Jaia Waits is a well-known Molokai artist.
Paris and Cy were first spotted Friday morning at Paddlers Inn, a popular restaurant in the town of Kaunakakai. From there, they went on to Friendly Market, another eyewitness says.
"Her boyfriend was pushing the wagon, and Paris loaded it up with cookies and candy, and hair pins," Linda Adachi tells RadarOnline.com exclusively.
"Everybody wanted to take pictures with her and she was very accommodating. She didn't turn anybody down, and her boyfriend just stepped aside and let her do her thing every time someone asked for a photo."
Linda asked Paris to pose with her while she held her granddaughter Shaylee-JanyAnn.
"I thanked her and she was so quiet — I heard just a sweet 'you're welcome'," Linda tells us.
"She can come back here anytime," Linda Adachi tells RadarOnline.com. "Everyone loved seeing her."

Posted: November 13th, 2010
Comments: 5
Comments