Paris Hilton In Wonderland!
Paris Hilton dressed as a sexy Alice in Wonderland!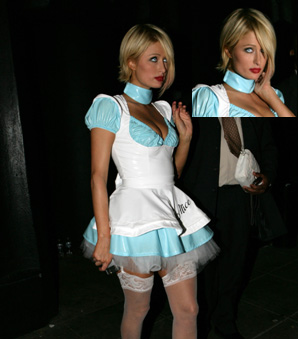 That's our Paris! Freakin' hilarious! Love the eyes!
Posted: October 28th, 2007
Comments: 2

From: Dawn
Time: October 29, 2007, 8:32 am
Really cute!
They had these pictures up over at X17 yesterday and someone posted really vile comments over and over. Could it be Shanna Moakler doing that? Some posters seemed to think so.LOL.
From: admin
Time: October 29, 2007, 8:43 am
Oh, lol, now I see it. It's because Shanna once said that Paris should take Valtrex. Maybe that's why they think it's Shanna lol. I'm not sure if it's her.